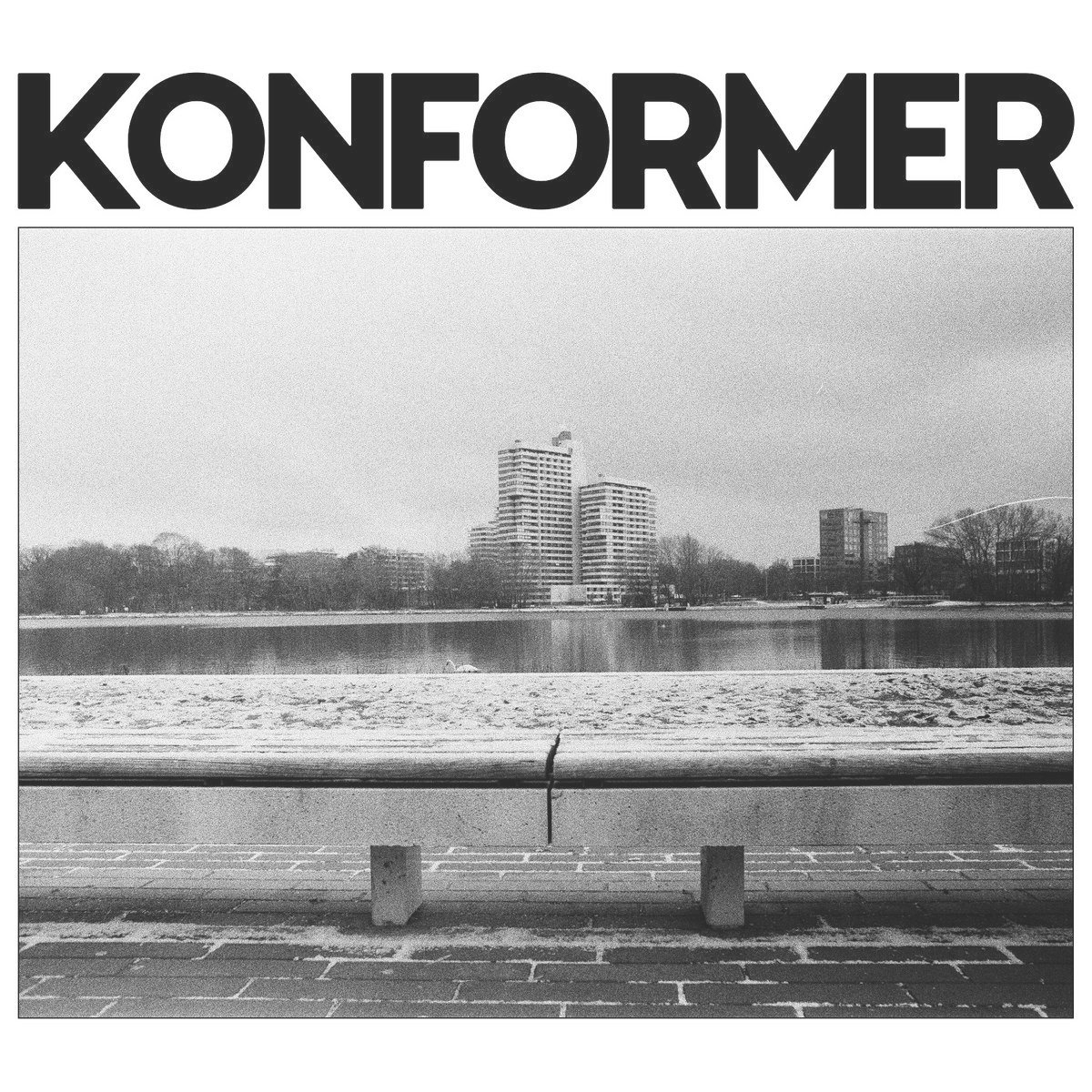 Konformer translated from their native German to English is conform.
Definition:
"Conform: to obey a rule or reach the necessary stated standard"
Sometimes dark, groove inflected, atmospheric, cinematic even, this new release somehow sits in opposition to the meaning of their name. Being ironic? Or maybe just playing with us? Anyway, this is something special from Jason Boardman's Before I Die label. Five tracks of motorik guitar and synth driven groove musik for the head and beyond.
Who are they? Konformer are a three piece from Nuremberg, consisting of Andreas Berg (drums) Kristian Krauay (synthesiser) Rainer Ruder (bass). A simple enough sounding set up, but together, they make an expansive sound. At first listen, this feels like headphone music, a soundtrack to a solo nighttime journey maybe, but give it a try out loud and you'll see what it can mean in that setting too. Produced by Frank Mollena, there is certainly a continuation of the kind of sound he produced for Mountaineer/Smith and Mudd - putting that driving bass sound front and centre to propel things forward but without overwhelming the other elements of the music.

With only one track shading it under seven minutes, this E.P gives the music room to breathe. First up, is opener "Noris Noir", beginning with a lone bass line, then adding synth lines on top of the throbbing undertow. Then it builds. Layers of guitar and drums are piled on top of each other before plateauing into something melodic and deeply satisfying. Then the reverse, as the tune is deconstructed, taking the music back to its basic beginnings.
Second track, "Konformer", is a more placid affair. A dreamy organ riff repeats over a subtly soaring drum pattern and strummed guitar. This then goes more fuzz as the tune hits the halfway mark, becoming more angular in attack. Then breaking into a finale of controlled chaos.
"Sebald" is a more straight ahead, relatively speaking, instrumental groove with a filmic quality. The bass is throttled down slightly, taking the music to a more mellow, contemplative space.
Track four, "Reunion", builds on the foundations of "Sebald" taking a more tripped out turn. It bends the bass, with twisting synth noises in distorted directions before bringing in the listener to a landing that's almost choral in quality. Final track "Noris Blanc" starts with a loping drum and bass groove combination, topped with rippling synth effects that provide atmosphere and space. A whirling synth solo sees in the track's peak before again taking things back to their bones. The music is rounded off with that searching, desert blues-esque bassline, fading into the sunset.

Konformer have set out their stall with this ambitious, immersive collection of tracks. If this is what conforming sounds like, then maybe we should all try to conform a bit more.
Konformer is released now on Before I Die with vinyl available in all good record shops.