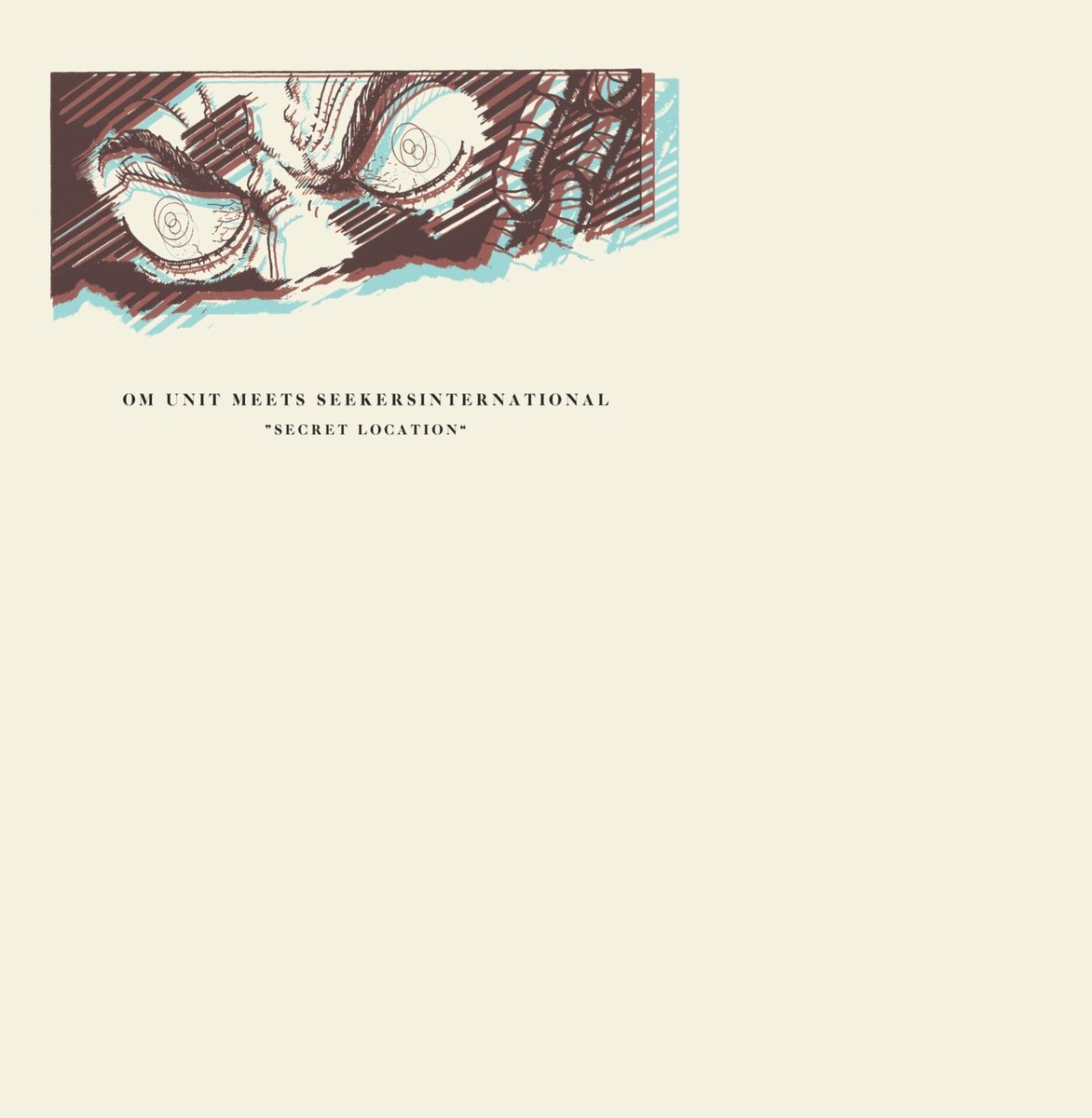 This is a collaboration that makes total sense with both parties bringing their own perspectives and strengths to the table to create a uniquely unified musical vision. On one side is Om Unit with his characteristically innovative and exploratory approach to beats and bass and on the other Seekersinternational with their distinctively dubwise brand of cut and paste musical hauntology. The resulting alchemy creates seven magical and otherworldy tracks that don't quite sound like anything else.
Opener 'Check One (Version)' (which is actually a dub of the closing track, more on that later…) makes for a perfect introductory statement of intent successfully combining spaced out ambience with some serious bassweight. We then head further into the depths of the echo chamber with 'Krnch' which uses a deadly snaking bassline to guide us through a haunted dancehall filled with distant dub sirens and spectral deejay toasting before 'Mic Up' brings the A-side to a close transporting us to the ghostly remnants of a jungle rave stripped back to its minimal dub form.
Flip the record over and things kick off with the nicely contrasting 'Murky' which ups the tempo and takes on a more futuristic and industrial feel, combining a tough metallic beat with an ethereal atmospheric backdrop. We're then back to ground zero with 'Hold Me' which achieves the seemingly impossible cross genre accolade of being an ambient hardcore track. Stripped of the frantic breakbeats and crazed chipmunk vocals the piano melodies characteristic of early 90's hardcore get a chance to breath and take on a life of their own delivering a moment of poignant beauty. 'Nu Killa' then brings us back to the dancehall with a tough punchy digi rhythm offset by some lovely spacey synths to create another intriguing musical collage of contrasting colours and textures. The EP comes to a close with personal favourite 'Check One' which adds some slo-mo breakbeats into the mix to create a dubwise dancefloor destroyer that provides a very welcome update on the classic Bristol sound pioneered by the likes of Smith & Mighty.
It's a track that nicely encapsulates what makes 'Secret Location' such a great record - its ability to respectfully take influences from the rich heritage of sound system culture and then in true dub fashion present them in new, unexpected and sonically compelling ways.
Om Unit Meets Seekers International 'Secret Location' is out now on Berceuse Heroique