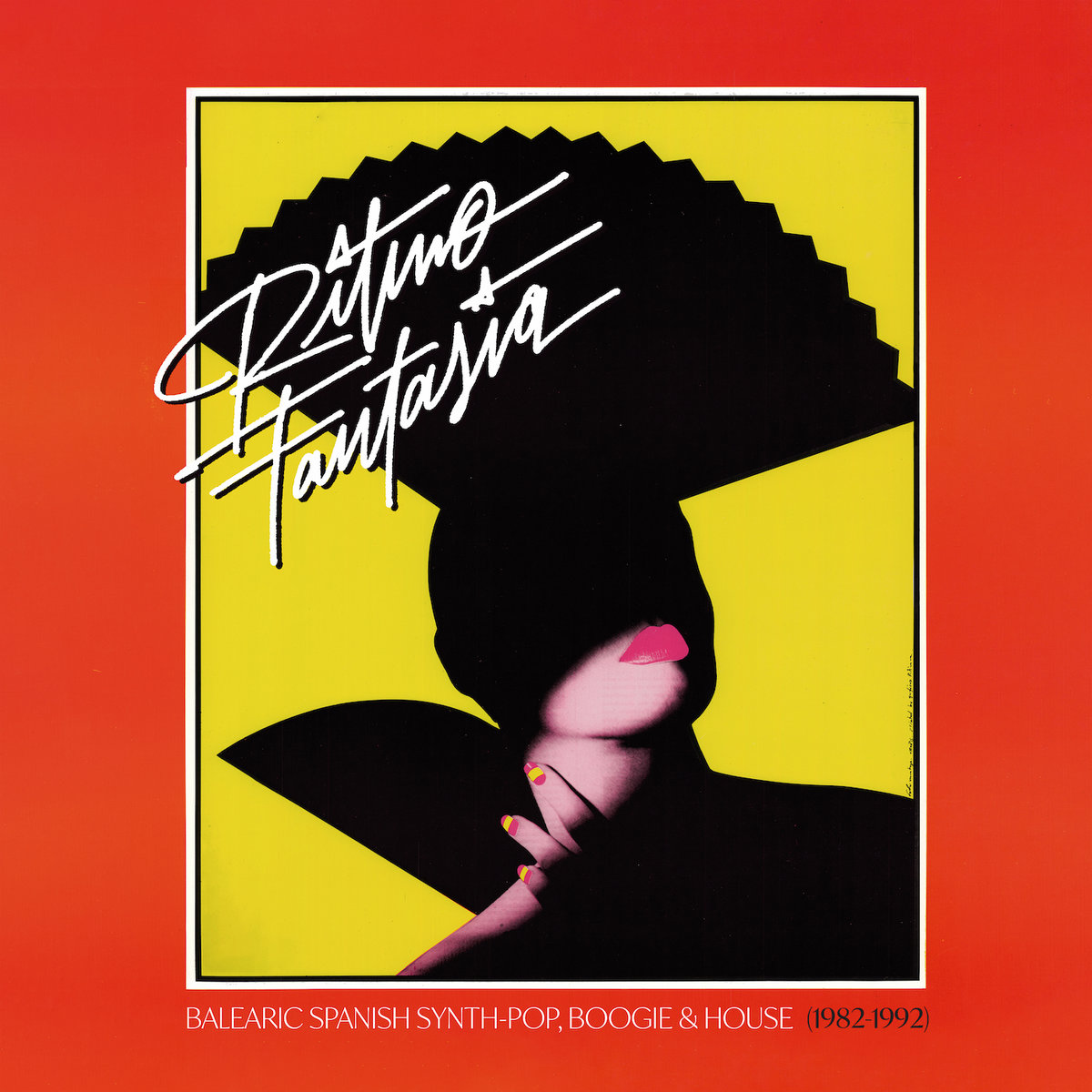 This review of 'Ritmo Fantasia' compiled by DJ Trujillo (and using an Yves Uro piece from Ku for the cover) is by Cameron aka deepconcentration on the Test Pressing forum (I can't change the credit above). Quality.

We all used to speak the same language. That's not at all true of course – but it's fun to employ some revisionist history when looking at collected music of a specific time period, especially if that music originates from an specific locale. In the case of "Ritmo Fantasía: Balearic Spanish Synth-Pop, Boogie And House (1982-1992)" – I was nowhere near the Mediterranean during that decade and was (and am) largely unfamiliar with the dialect, desires, or culture of the day.
That's OK, because I do speak Yamaha DX-7! And in this critical decade, we ALL spoke DX-7, pretty much everywhere all over the world. And internationally – and at any given time – there's always a drive to create yet-unheard music by filtering what you're most familiar with through the newest tech. So it's a real joy to listen to a number of the tracks collected for this compilation, even if you're like me and have no idea what the lyrical message is – because there's a strong sense of familiarity with the sounds or styles, and you can almost pinpoint the year that the tracks came out based on production tricks and techniques. Marengo's "Puente de Esparanza", Beni Life's "Amor en el Cielo" and Blaumarí's "Memòries" would sound perfectly-1987 in any language – syncopated drum sounds and Seinfeldian-pop bass sounds. Some of the earlier inclusions such as Tango's "Tango?" and sound a bit more raw and experimental, and some of the later-era tracks like Bíanca's "Tabu (Caribbean Dub) and Poly-C's "Soy Pijo (Boite Pijo Instrumental)" are straight-up house music – nothing too wildly different than the US/British/Italian house we all grew up with. There's some hip hop/freestyle tracks (Scan Man's "Arabian"), and some radio-friendly Double-like sax pop (Jaume Escala's "Ciutat", Free Tax's "Paris Babylone", the sublime "Divorcio" by Fernando Girão) – basically, if you have an affection for the synthpop music of this era, there's something wonderful to be found here.

For a while anyway – we all spoke MIDI. I could waste time and speculate on what the sun-bleached Spanish climate did to these tracks (maybe obligatory hints of some flamenco guitar or castanets here and there? There's little bits of it, and it seems appropriate.). But I wasn't there and haven't been yet, so probably better that I don't. No matter, the construction and soul of these tracks were contemporary with what we all wished for in the proto-digital 80's – to make something clever, possibly futuristic, something a DJ could slide comfortably up next to the most immediate sounds of the day. Something new with a hint of the local spirit, but as just as complete as the bigger, unforgotten records of the times. This compilation collects a couple of handfuls of those greats – they sound great now, they must have sounded great then too.

Words: deepconcentration aka Cameron.